Allama Iqbal famous Poetry in Urdu with pictures: Iqbal is considered the greatest Muslim sub-continent poet. Faiz Ahmed Faiz has expressed his heartiest regards for Allama Iqbal in his poem "IQbal" in following manner:
چند ھی تھیں وہ نگاھیں جو اس تک پہنچ سکیں
پر اسکا گیت سب کے دلوں میں اتر گیا
His poetry spans well over the topics and issues like Muslim brotherhood, Islam and philosophy of Indian Muslims, Political struggle of Indian Muslims and the most sublime theme of Iqbal has been based upon the concept of Khudi, the respect of self which is the means of purification and paradise for a solemn momin and Muslim. From among various Urdu works of Iqbal below are the select verses of Iqbal's poetry which we deem easily understandable and graspable.
Allama Iqbal famous Poetry in Urdu with pictures:
We have divided the poetry of great Allama Muhammad Iqbal into the following categories:enjoy the poetry of Allama Iqbal. This is Allama Iqbal Famous Poetry in Urdu with Pictures. Allama Iqbal famous Poetry.
Poetry with mysticism and Faith
Keep enjoying yourself with the above categories and drop us a word if you really enjoy the verses of Iqbal. However, below is the complete selected poetry of Allama Iqbal:
Allama Iqbal Famous Poetry in Urdu with Pictures: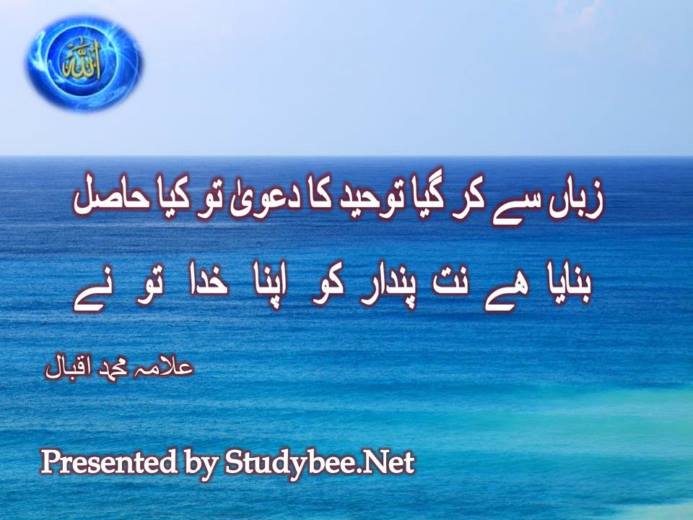 Zuban say kr gya toheed ka dawa to kya hasil,
banaya hy nit pandar ko apna khuda tu nay